Birth Tissue International (BTI) Honors National Donate Life Month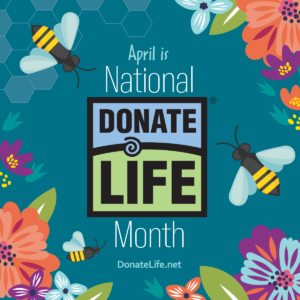 National Donate Life Month (NDLM) was established by Donate Life America in 2003.
BTI is committed to raising awareness about living donation through birth tissue.
Living donations include birth tissue donation.
Just one birth tissue donation can help hundreds of patients and potentially save lives.
CLEVELAND, TN. (April 8, 2022) – This month is National Donate Life Month focusing on the importance of organ, eye, and tissue donation, and honoring both deceased and living donors' legacy of helping – and potentially saving – others.
Birth Tissue International (BTI) honors everyone who has donated the gift of life and is committed to raising national awareness about the importance of living donation by recovering birth tissue for advanced medical treatments and research.
"As a leader in the living tissue donation industry, we are committed to increasing these potentially life-saving donations and are thrilled that organizations like Donate Life are continuing to raise awareness on the importance of living and deceased organ, eye and tissue donation," says BTI CEO and Co-founder Dan Maye. "Just a few years ago, the majority of people I spoke with weren't aware of the many medical benefits and treatments birth tissue can provide – I'm happy to say that's rapidly changing as more and more individuals learn about this type of donation."
The birth tissue donation process is simple, and involves expectant mothers scheduled for planned C-sections who agree to donate placental amniotic membrane tissues, cord blood and umbilical cords. These tissues are used to create innovative medical treatments for burn victims, hard to heal wounds, eye injuries and even potentially life-saving therapies for certain type of cancers.
In most planned C-section births, the placental amniotic membrane tissues are discarded as medical waste, which BTI COO and Co-founder Holly Hewitt says is something she wants to change.
"When someone asks me why they should donate, the question I always ask is, 'Why wouldn't you donate?' The donation process is easy, doesn't harm the mother or baby, and really is the very first gift a mom and her baby can give – after all, one donation can help hundreds of patients live better lives," says Hewitt. "It's an immediate legacy a mom and her little miracle have – a legacy of healing."
Dr. Damian Badeaux, an obstetrician working at Opelousas General Health System, agrees.
"In the past, birth tissue has been medical waste, and to be able to use this tissue for the benefit of others is great," he says. "It's like new life and hope riding on the coattails of a new life – it's pretty amazing and my patients like that, too."
Maye says the impact of birth tissue donation used for medical treatments is not only a proven and effective solution for a variety of modalities, but the potential is endless. "I'm so grateful for our first gift moms and their little ones for donating this potentially life-saving birth tissue. This month and every month, I thank everyone who has given a piece of themselves to save a life – you are all heroes with hero-sized hearts."
About BTI | The First Gift
BTi is on a mission to increase awareness and donation rates so we can continue to develop medical innovations using birth tissue. BTI partners with hospitals across the United States to create and implement birth tissue donation programs uniquely designed for their specific facility. At BTI, we are committed to spread the word about donation and how one donor has the potential to provide a life-saving resource to a patient in need. To learn more, visit www.btiinc.org.